8 Tacos plus 2 Free Sodas for $10 Bucks!
Every Day! All Day! All TAQUERIA Locations!
Tacoma, Lakewood, Lynnwood & Vancouver
ANTOJO MEXICAN GRILL-UNIVERSITY PLACE IS NOT INCLUDED IN THIS OFFER
Carnitas, Pollo and Adobada only.
Click here for more available Promotions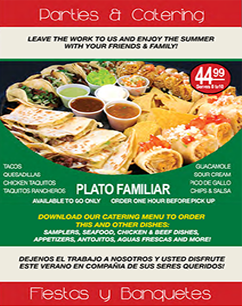 Our Catering Menu has everything
you need for a small crowd or a big one,
appetizers and samplers or entire meals.
Take a peak, download our catering menu